Introduction
Drag-and-drop page builders are becoming more and more important in the world of web design, which is always changing. With its easy-to-use interface, both experienced developers and complete newbies can make websites that look professional without having to write code by hand.
In an era where online presence is paramount for businesses, personal brands, and virtually anyone looking to reach an audience, the ability to create an effective website is crucial. 
This blog explores the best drag-and-drop page builders for your WordPress website. 
Best Drag and Drop Page Builders of 2023
1. Elementor

With its robust capabilities. flexible design options, and an easy-to-use interface, Elementor comes as a boon for both experienced and newbie web developers. Let's get to know more about Elementor.
Key Features
Live Editing Interface:

Elementor's real-time design capabilities mean you can see changes as you make them, streamlining the design process and enhancing accuracy.

Wide Range of Widgets and Templates:

Elementor offers an extensive library of pre-made design elements and templates, allowing for quick yet customized builds.

Responsive Design Controls:

Create mobile-friendly designs effortlessly with specific controls for different devices.

Integration with Popular Tools:

Elementor integrates seamlessly with popular marketing and social media tools, enhancing its usability.

Multilingual and RTL Support:

Design websites in various languages with right-to-left text support, making it globally appealing.
Pricing
Check out the pricing plans for DiviBuilder here.
Security and Reliability
When it comes to security, Elementor understands how important the safety and integrity of a website are to users. Using strict coding standards and best practices for web security, Elementor ensures that the user's website is safe and secure. 
And if you're the type who likes to add a little extra protection, Elementor plays nicely with a lot of the security plugins out there. So you can build up your site's defenses just how you like. 
Got a question or hit a snag? Elementor's support team has got your back. They've got loads of guides online, and there's a community of users who are always ready to lend a hand.
Customization
Customization is where Elementor really feels like a playground for anyone wanting to create a unique website. 
Starting with the interface, it is a drag and drop thus allowing you to play with layouts, select colors, adjust fonts, and more. 
For those with more technical skills, Elementor opens up the possibility to explore custom CSS and JavaScript.In addition to these hands-on design features, Elementor also offers a rich library of pre-made templates. You can choose a template that closely matches your vision, and then tweak it to perfection. 
Flexibility
Imagine you're building a blog today, an online store tomorrow, and maybe even a portfolio site the week after that. This could mean learning three different methods with some tools, but not with Elementor. Elementor can be used for many different kinds of projects, irrespective of the requirements. 
Elementor's built-in features act like tools in a toolkit, and the third-party extensions act as specialty tools that can be added. There exists a vast ecosystem of modules and add-ons ready to extend Elementor's capabilities. 
SEO Impact
You don't just put together a website with Elementor; you craft it in a way that search engines can understand. This is essential because if search engines can readily read your website, they will be able to show it to more people. Elementor helps you build a search engine-friendly site.
2. Divi Builder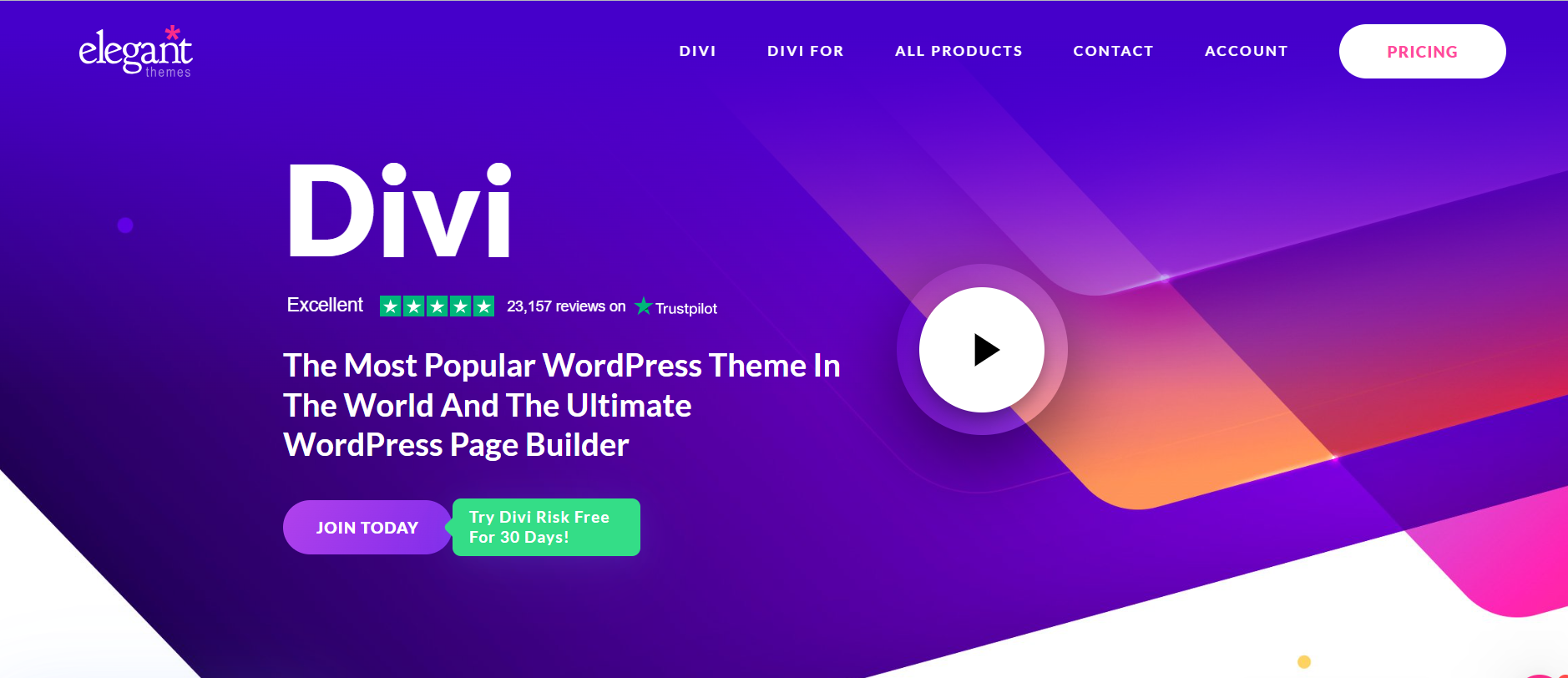 Divi Builder developed by Elegant Themes, is quickly becoming a favorite among WordPress users. Divi Builder has gained popularity due to its ease of use, vast customization, and varied design features it has. Let's dig in more:
Key Features
Visual Builder Technology:

Divi Builder offers a real-time design interface, allowing designers to see changes instantly without page refreshing.

Modules and Layouts Library:

A vast collection of customizable modules and layouts, catering to all design needs.

Global Elements & Styles:

Create global elements that can be used across the site, saving time and ensuring consistency.

Split Testing:

Test different design options to see what works best with built-in split testing tools.
Pricing
Check out the pricing plans for DiviBuilder here.
Performance
Divi Builder is fast, which means you're not sitting around waiting for things to load. You can move things around, tweak them to your liking, and see the changes right away. 
Divi Builder's performance can vary depending on factors such as hosting, the complexity of your design, and the number of plugins you use.
Security and Reliability
With frequent updates, Divi Builder maintains a secure platform. Moreover, Elegant Themes offers round-the-clock support, ensuring assistance when needed.
Divi Builder provides an extensive library of tutorials and documents to help users navigate any challenges.
Customization
Instead of abstract menus and settings, designers can click on any part of their website and modify it directly. Whether it's adjusting the typography of a headline, changing the color palette of a section, or adding interactive elements, Divi Builder lets users tinker and refine to their heart's content.
While Divi Builder does come packed with a myriad of beautiful templates, each of them can be dissected, modified, and reassembled to create something entirely new.
Flexibility
The digital world thrives on collaboration and interconnected tools, and Divi Builder embraces this wholeheartedly. By allowing and often facilitating integrations with a plethora of external tools, Divi Builder ensures that its users always have the right tool for the job, even if it's not native to the platform.
SEO Impact
The very foundation of Divi Builder is built upon SEO-friendly principles. The generated markup is clean and streamlined, adhering to modern web standards. This clean code ensures that search engine bots can easily crawl and index the content. When these bots can efficiently understand the structure and content of a site, it naturally leads to better rankings on search engine results pages.
3. Beaver Builder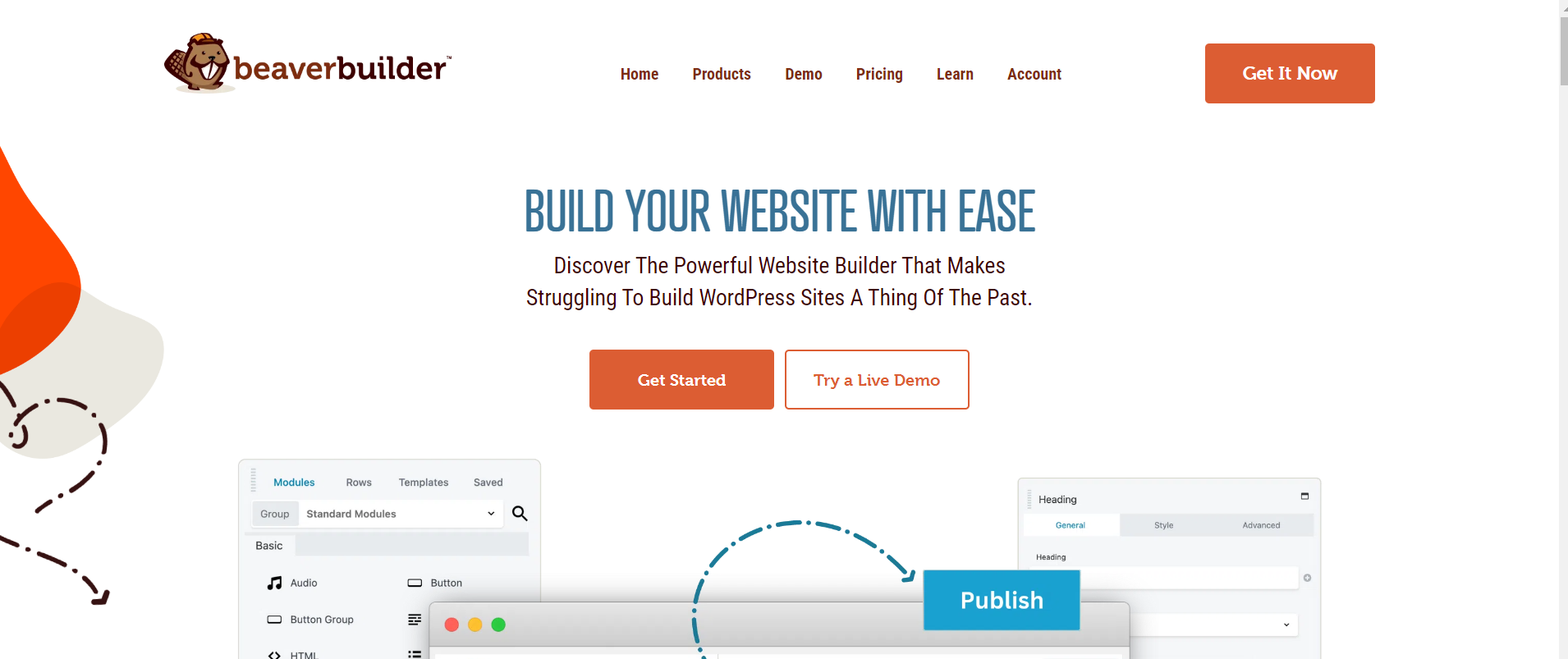 Beaver Builder has made a name for itself in the WordPress community as one of the best drag-and-drop page makers. It makes it easy for both new and experienced developers to create sites that look like professionals made them. Here's a more detailed look:
Key Features
Live Front-End Editing:

See changes as you make them with the real-time design interface.

Module Variety:

Various content modules like photos, text, and even maps can be dragged and dropped with ease.

Page Templates:

Access to pre-made layouts that help to quickly start the design process.

White Labeling:

Ideal for agencies, it allows you to replace the Beaver Builder name with your branding.
The Beaver Builder provides a detailed pricing plan on their website. 
Performance
Professionals who value efficiency above all else will find Beaver Builder to be an excellent option because of its fast loading times, excellent responsiveness, and user-friendly interface for designing websites.
Security and Reliability
Beaver Builder prioritizes data and browsing session security. Regular security audits find and resolve issues quickly.
Open communication with the WordPress community has enhanced Beaver Builder's security posture. Feedback is quickly integrated, and concerns are addressed promptly.
It is also known for its responsive support team that's there to help with any issues. Beaver Builder's commitment to regular updates ensures compatibility with evolving web technologies and changing WordPress frameworks.
Customization
From typography to column configurations, precise adjustments are feasible, ensuring a customized design outcome.
Those who desire further customization and functionality modifications can use their own custom CSS and JavaScript in Beaver Builder.
It enables the saving and reusing of design elements across multiple pages or websites, thereby promoting consistency and efficiency.
Flexibility
Beaver Builder is always compatible with the latest WordPress releases and integrates well with various plugins. This ensures that users can blend multiple tools without compatibility concerns.
The drag-and-drop mechanics appeal to beginners, while experienced coders are able to embed custom code. Global settings provide design uniformity and help users create site-wide design rules.
SEO Impact
Beaver Builder effortlessly collaborates with top-tier SEO plugins like Yoast SEO, enabling users to finely tune their SEO efforts without hitches.
A crucial yet sometimes overlooked SEO factor is site speed. Beaver Builder's lightweight design ensures faster loading times, crucial for both user satisfaction and SEO optimization.
A very important feature is that it offers clean code—essential for making sure search engines can efficiently crawl and index content, which, in turn, boosts website rankings.
4. Visual Composer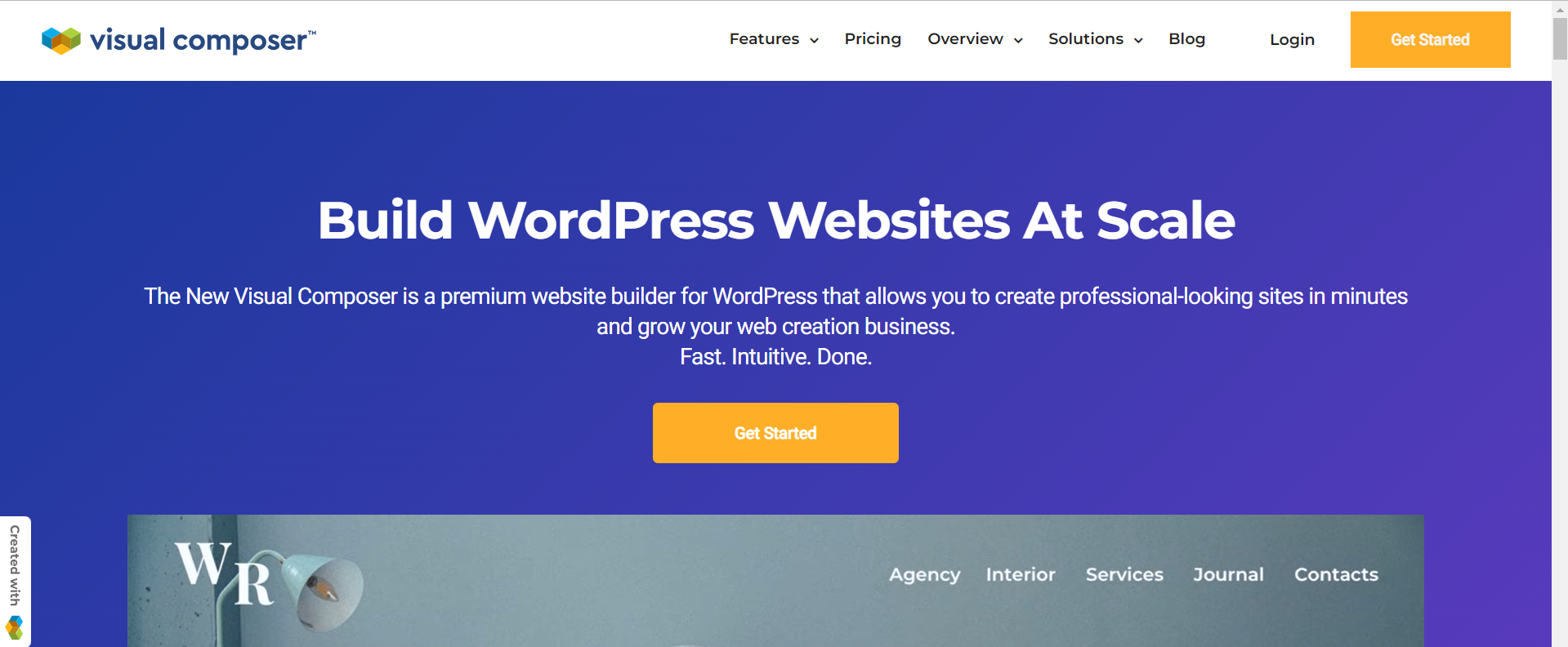 Visual Composer is a website builder with backend and front-end editing capabilities. Of course, like other page builders, this one also helps non-technical people to easily build websites. 
While there are many excellent page builders out there, Visual Composer stands out due to its comprehensive features, dual editing modes, and extensibility. It's both beginner-friendly and robust enough for seasoned developers, making it a versatile choice for a wide range of WordPress users.
Key Features
Dual Editing Modes:

Offers frontend and backend editing capabilities.

Wide Range of Elements:

Basic to advanced elements, including post grids, slideshows, and interactive features.

Templates:

Comes with a variety of pre-designed templates to fast-track the design process.

Extension Ecosystem:

Supports a range of third-party extensions to extend its functionality.

Integration Capabilities:

Seamlessly integrates with many other WordPress plugins. 

Cloud Marketplace:

This is a premium feature by Visual Composer which is an in-app marketplace for you to buy elements, extensions, and templates. This feature lets you build your website from the cloud.

Unsplash Stock Images: Adding images to your website is made easy by this premium feature. From the Visual Composer Hub, you can get high-quality stock photos from Unsplash and add them to your site.
Pricing
You can check out the pricing plans for Visual Composer here.
Performance
Websites created with Visual Composer generally maintain good loading times, but this also depends on other factors like hosting, image optimization, and overall website content.
Visual Composer has clean code and is as optimized as possible. Still, like any tool, its performance can be impacted by how it's used. Overstuffing a page with too many elements or animations can naturally slow it down.
Additionally, the plugin works with popular caching and optimization plugins. This collaboration allows for better loading times and performance with the appropriate setup.
Security and Reliability
The Visual Composer is updated regularly to add new features, fix bugs if any, and also to add security patches. Thus, the tool wants to stay one step ahead of any possible threats. 
Visual Composer is known for its stability and reliability, even with WordPress updates. The Visual Composer staff provides excellent service. An active support system fixes difficulties and functions as a feedback loop to improve the tool based on user demands.
Customization
A large library of elements and widgets of Visual Composer allows you to choose from simple text blocks to advanced sliders and social media feeds. This wide range lets you add functionality to your requirements without third-party plugins.
When it comes to brand consistency or saving time, the templating features of Visual Composer are incredible. Design a layout, save it as a template, and use it on other pages or websites. This streamlines workflow and guarantees consistency without duplication.
Flexibility
Visual Composer is flexible enough to accommodate a variety of project types ranging from blogs, e-commerce websites, or even portfolio websites. This page builder not only offers a service, but a solution to your requirements. 
It easily integrates with the third-party plugins you require for your website without any hassle. 
You can customize designs with custom CSS, HTML, or JavaScript. Developers who are willing to push the tool's limits in designing can benefit greatly from this freedom.
SEO Impact
Visual Composer uses SEO-friendly HTML markup, which is the basis for any search-optimized site. A good HTML structure helps search engines read your content, and this tool does that. Headings, meta descriptions, and picture alt texts are integrated characteristics that promote rankings.
Since Visual Composer is flexible enough, it is easy to integrate SEO plugins, thus further helping in boosting your site's visibility. 
The builder doesn't add unnecessary bulk to your web pages, making sure they load quickly, thereby bettering your SEO score. 
Conclusion
We examined 2023's most powerful and versatile drag-and-drop page builders for WordPress: Elementor, Divi Builder, Beaver Builder, and Visual Composer. Each has unique strengths and features that make it suited for various projects.
The right page builder depends on performance, customization, adaptability, security, and SEO. A bad page builder can slow down your website, complicate design, and cause security problems. However, a good one may make your website quick, safe, and easy to use, improving user experience and SEO ranking.
We hope our blog post will help you choose the right page builder according to your needs. If you are looking to build your website, look no further and connect with our WordPress experts.