In the current digital world, search engine optimization (SEO) is essential for the success of any website. Better rankings, more organic traffic, and more satisfied users are all possible benefits of an SEO-friendly WordPress website.
Numerous SEO plugins offer various features and benefits. This article will discuss the top WordPress SEO plugins for optimizing your website for search engines.
 Best WordPress SEO Plugins of 2023
 The following are the best WordPress SEO plugins: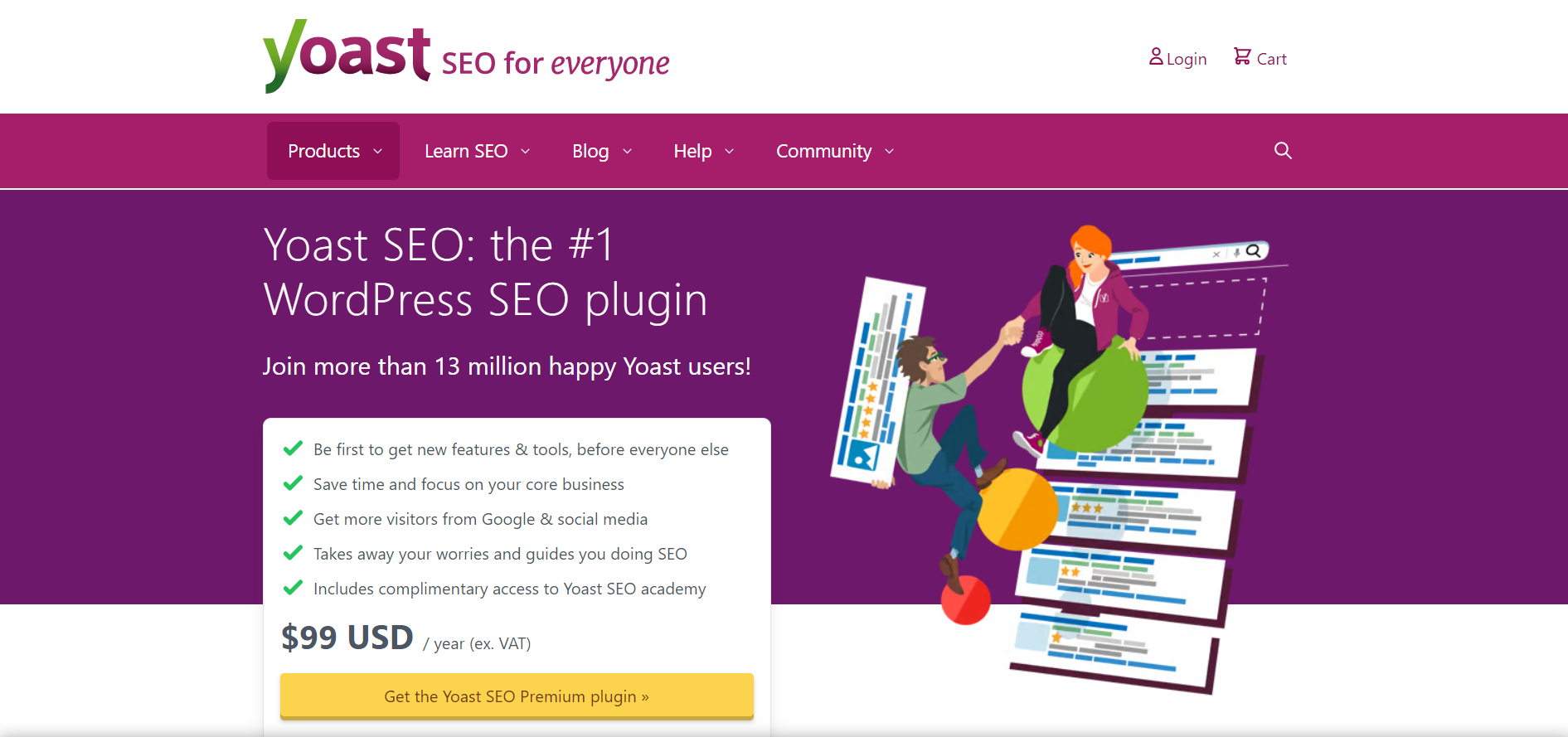 Yoast SEO is one of the best WordPress SEO plugins. The free version provides multiple features, such as analyzing the content of your post or page, XML Sitemaps, social media integration, and many more. 
The Yoast SEO Premium provides more sophisticated features like advanced language analysis that helps to write naturally, the use of synonyms and keyphrases that help to make text richer, adding schema markup, optimizing a page for up to five keywords, previewing your page appearance on Twitter and Facebook, and suggesting internal links to guide users to other areas of your site.
Furthermore, Yoast SEO boasts its own website, offering premium support options, a vibrant community in its forum section, an educational blog for SEO insights, and courses catering to beginners, intermediates, and advanced users.
Nevertheless, budget-conscious users can still take advantage of the free version, which outperforms most other WordPress SEO plugins by a significant margin.
 Key features:
Preview your exact appearance in Google search results, allowing you to tweak the meta description and title for improved appeal and keyword usage.

Yoast SEO allows you to add schema markup to your website, enhancing the visibility and appearance of your pages in search engine results.

It enables you to use focus keywords, thus helping you to optimize content with targeted keywords.

It comes with a Redirect manager, so you don't have to install another plugin to handle your 301 redirects.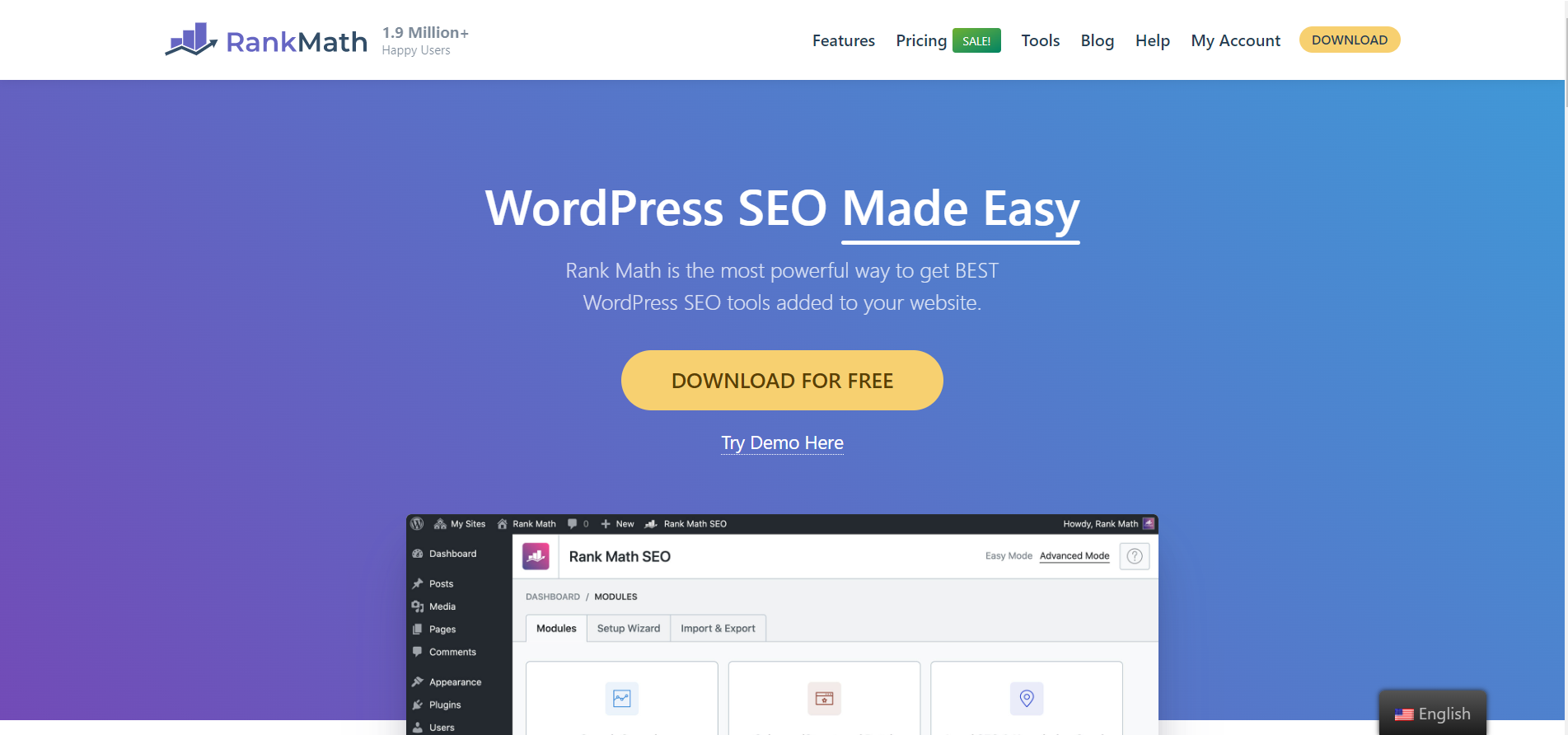 Rank Math SEO is a multipurpose plugin for your WordPress website. It provides complete on-page SEO management at your fingertips. Rank Math is a lightweight and easy-to-manage SEO plugin for WordPress that consolidates the functionality of several other plugins. 
The free version comes with an XML Sitemap, SEO Titles and Meta Descriptions, schema markup, focus keyword analysis to visualize the optimized content with different keywords, and much more.
The premium version provides the user with keyword rank tracking, local SEO integration, Google News, and Video Sitemap, to name a few. 
Key features:
Each post, page, or product undergoes an SEO analysis based on 40 criteria.

It allows automatically adding alt or title tags to images that lack them.

Rich Snippets support is built-in, with a choice of six different snippets, such as Article, Product, Recipes, Events, Video, and Local Business.

The plugin also features a Redirection module, allowing you to direct 404 errors to more relevant content on your website.

Breadcrumbs are incorporated within the plugin, eliminating the need for an additional plugin.

Open Graph and Twitter Card support are also included.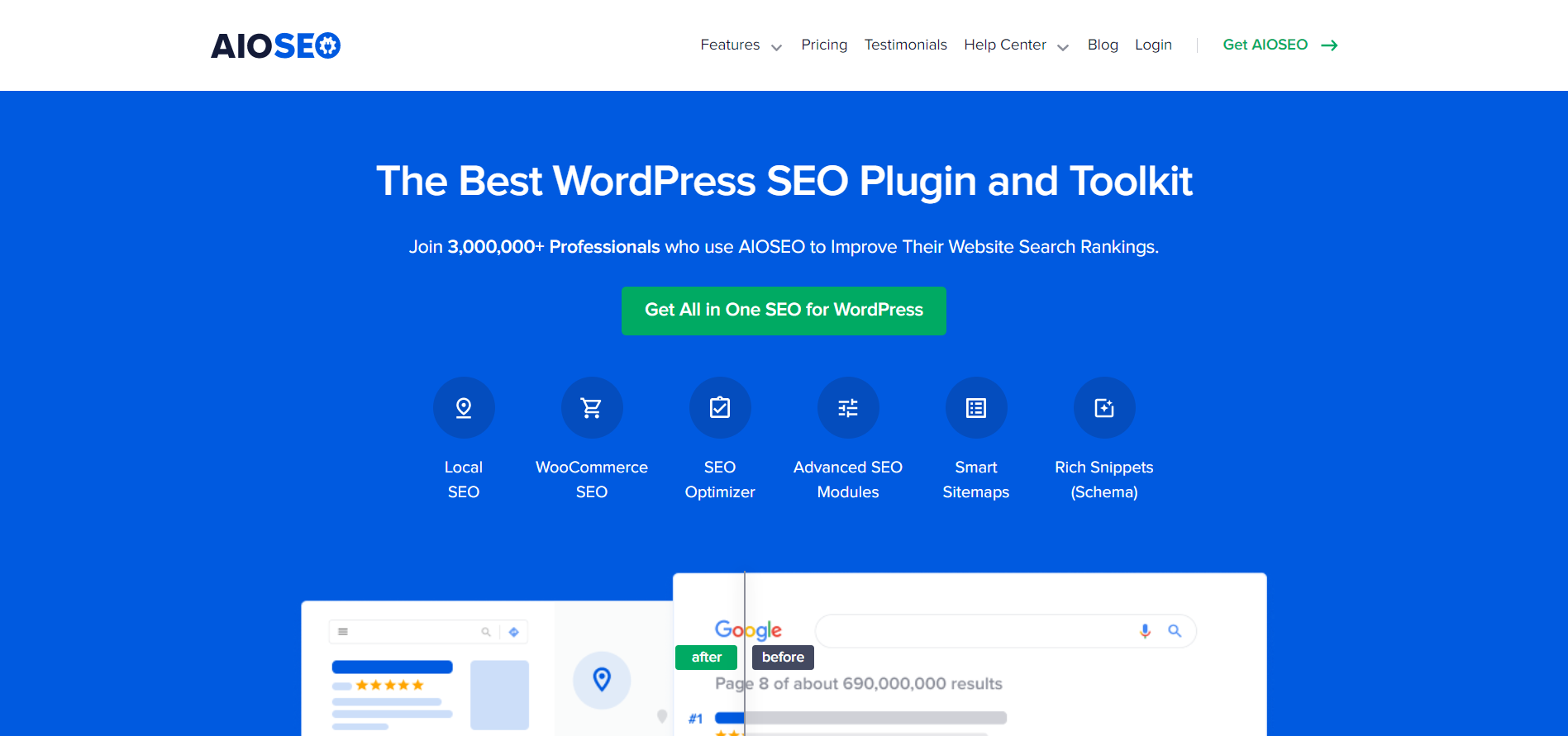 The most effective SEO plugin for WordPress is All in One SEO for WordPress (AIOSEO). It helps you improve your search results without learning complicated SEO terms.
XML sitemaps, SEO title and meta tags, schema markup, and social media integration are some of the features available in the free version. The premium features come with more extensions, such as advanced WooCommerce support, local SEO integration, and an advanced robots.txt editor that offers an intuitive interface for editing and managing the robots.txt file of your website, thus controlling search engine crawlers' access to specific areas of your site.
Key features:
Open Graph metadata is easily manageable with the built-in social media integration.

SEO Audit Checklist.

Faster Indexing with RSS sitemaps.

404 Error detection and redirection.

It provides a Link Assistant, which completely revolutionizes the practice of internal linking.

It offers the best features from different plugins, which eliminates the need for multiple plugins.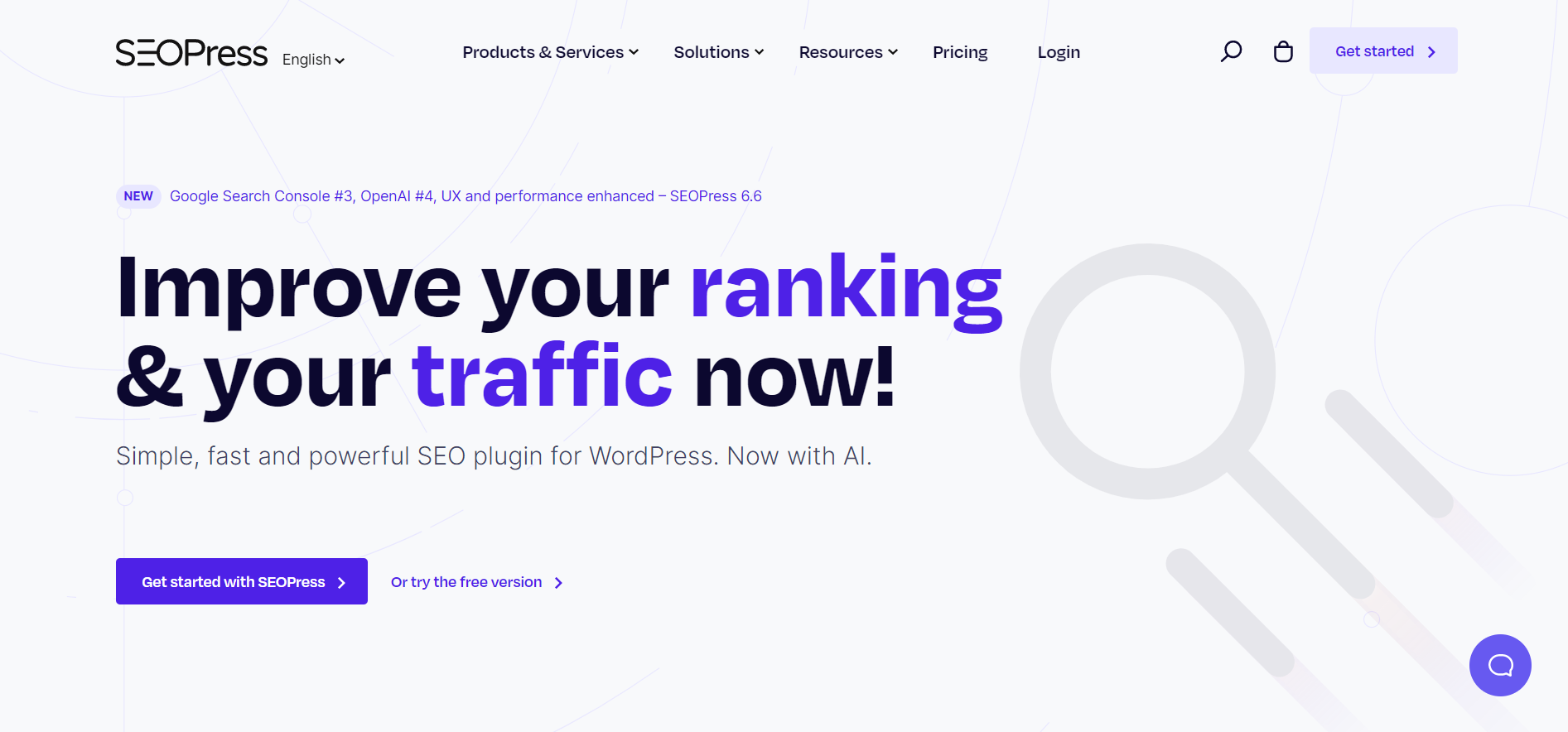 SEOPress is an ad-free, premium WordPress SEO plugin. Even the free version is 100% white-labeled and leaves no trace. It's easy, quick, and powerful, and it lets you control the title and meta descriptions for all of your pages, posts, and post types. 
It has a simple setup for new users and more complicated controls for those with more experience. As far as capabilities and customization go, it's on pace with the best WordPress SEO plugins available today.
Optimizing tags (Open Graph and Twitter Cards) for sharing on social media; generating sitemaps in XML and HTML; and monitoring site traffic using Google Analytics are a few of the features of SEOPress. 
The free edition also includes a content analyzer for site administrators to use while writing articles. More than seventy-five hooks are available to developers for configuring the plugin. The paid version of the plugin comes with additional features such as breadcrumbs optimization, Google structured data types, and many more.
Key features:
WooCommerce optimization for enhanced SEO support to eCommerce websites. 

Local SEO integration. 

The premium feature Backlink Integration helps to monitor and analyze your website's backlinks to understand your link profile and improve your SEO strategy. 

Modify and optimize your website's URLs for better readability and SEO with URL rewriting.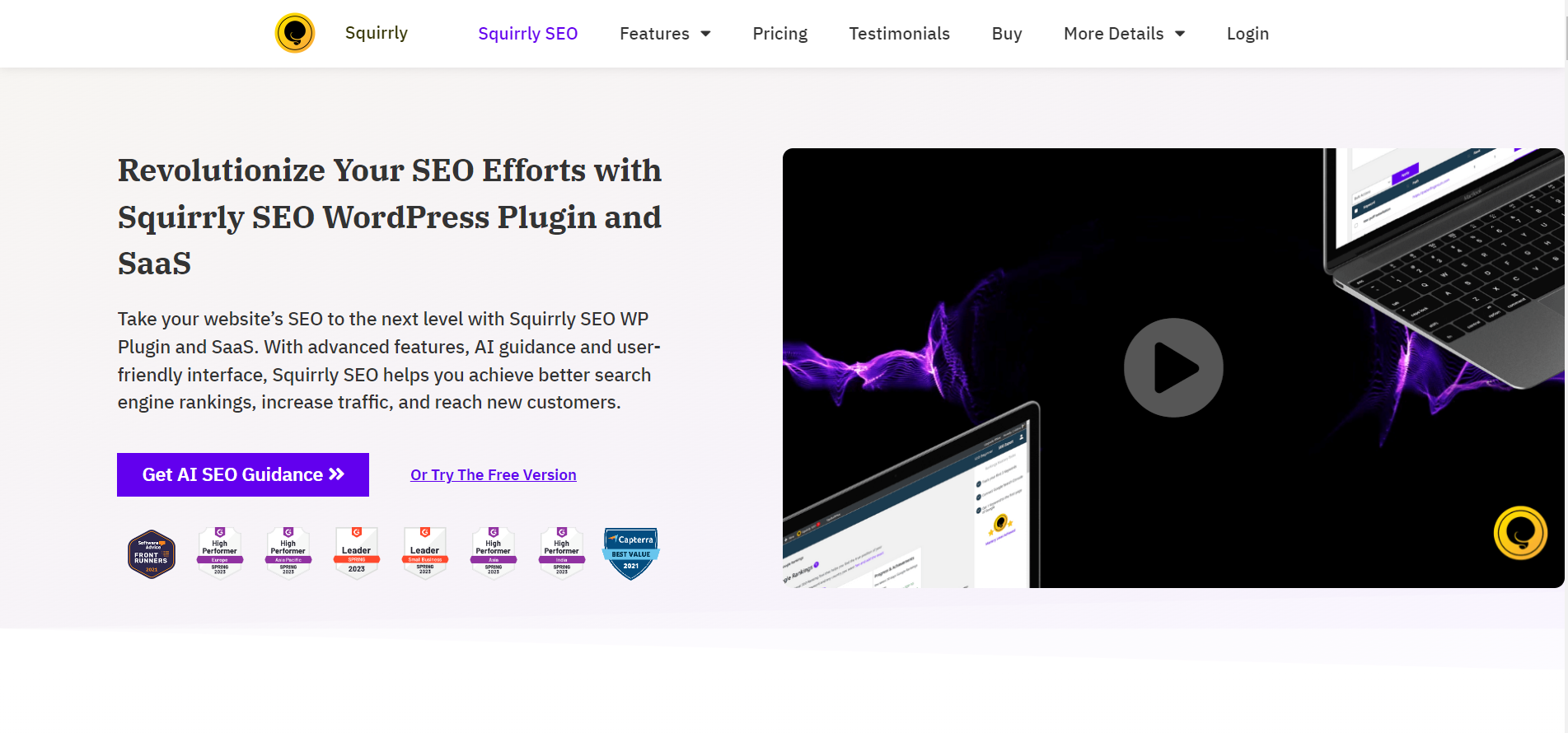 Squirrly SEO is one of the finest WordPress plugins for large, unique-content websites with high traffic. To help you improve your WordPress site in all aspects, from its backlink profile to its domain authority, it employs artificial intelligence and has an easy-to-use interface.
The full keyword tracking and data tools make Squirrly SEO stand out. This WordPress plugin is also useful for regional search engine optimization thanks to features like local business schema and Google Earth integration.
Squirrly's SEO recommendations differ from those of the other plugins. To begin, enter the topic you want to write about. You then proceed to compose your piece while the green lights respond to the inputted term.
Key features:
Optimization of keywords happens in real time as you write.

If you're replacing another WordPress SEO plugin with Squirrly, your current settings will remain intact.

You can share content reports created using Squirrly with colleagues.

Analyze your competitor's SEO strategies to gain insights and stay ahead of them. 
Conclusion
In conclusion, when it comes to WordPress SEO plugins for 2023, there are several notable options to consider. Yoast SEO offers comprehensive features and user-friendliness, while Rank Math provides advanced functionality like keyword tracking and internal linking suggestions. 
All-in-One-SEO is a reliable choice with essential features, while SEOPress and SEO Squirrly offer a range of advanced features like competitor analysis (SEOPress) and social media monitoring (SEO Squirrly). 
Consider your specific SEO needs and budget when choosing the right plugin for your website. Stay updated with the latest developments as these plugins evolve to meet the changing SEO landscape. Ultimately, integrating an SEO plugin will optimize your content, improve visibility, and drive organic traffic in the years to come.
We hope this article has helped you learn about the best SEO plugins that suit your needs.