Every WordPress site owner needs access to a trustworthy backup and restoration system. Data loss or total site crashes can happen when running a website.
This is why a reliable backup and restoration solution is so important. For the purpose of keeping your website safe, secure, and easily recoverable, this article explores the top WordPress plugins for backup and restoration for the year 2023.
Things to look for before choosing the backup plugin
When choosing a backup and restore plugin, it's essential to consider the following key features to ensure it meets your specific needs:
1. Automatic Scheduling 
Automatic scheduling allows you to set up regular backups without manual intervention. Instead of remembering to initiate backups manually, the plugin will handle the process for you based on your preferred schedule. With this feature, your time and effort are saved without having to initiate the backups manually. It also facilitates a consistent data backup routine and reduces human error.
2. Incremental Backups
Incremental backups are a method of storing only the changes made since the last backup, rather than creating a full backup every time. This improves site performance and eliminates dozens of backup files on your server. 
Thus, your backup plugin should analyze the latest file and avoid the next backup if no changes have been made. This leads to a faster backup process, reduced storage space, and efficient storage utilization. 

3. Real-time backup for high-traffic sites
Real-time backups refer to the ability of a backup plugin to capture and save changes to your website's files and database as they occur, ensuring that your backup is always up to date.
High-traffic sites such as e-commerce and membership sites often experience frequent content updates, user interactions, and database modifications. In the event of a disaster or site failure, relying solely on scheduled backups could result in data loss since the most recent changes may not be captured. 
Real-time backups help minimize data loss by continuously saving updates as they happen, ensuring that even the latest changes are backed up. Real-time backups let you quickly restore your site after a hacking attempt, data corruption, or critical error. 
In the event of a failed transaction or interaction, you may easily revert back to the state before the interruption with the help of real-time backups. This is a must-have for e-commerce and membership sites so that users can connect with them easily.
Best Backup and Restore Plugins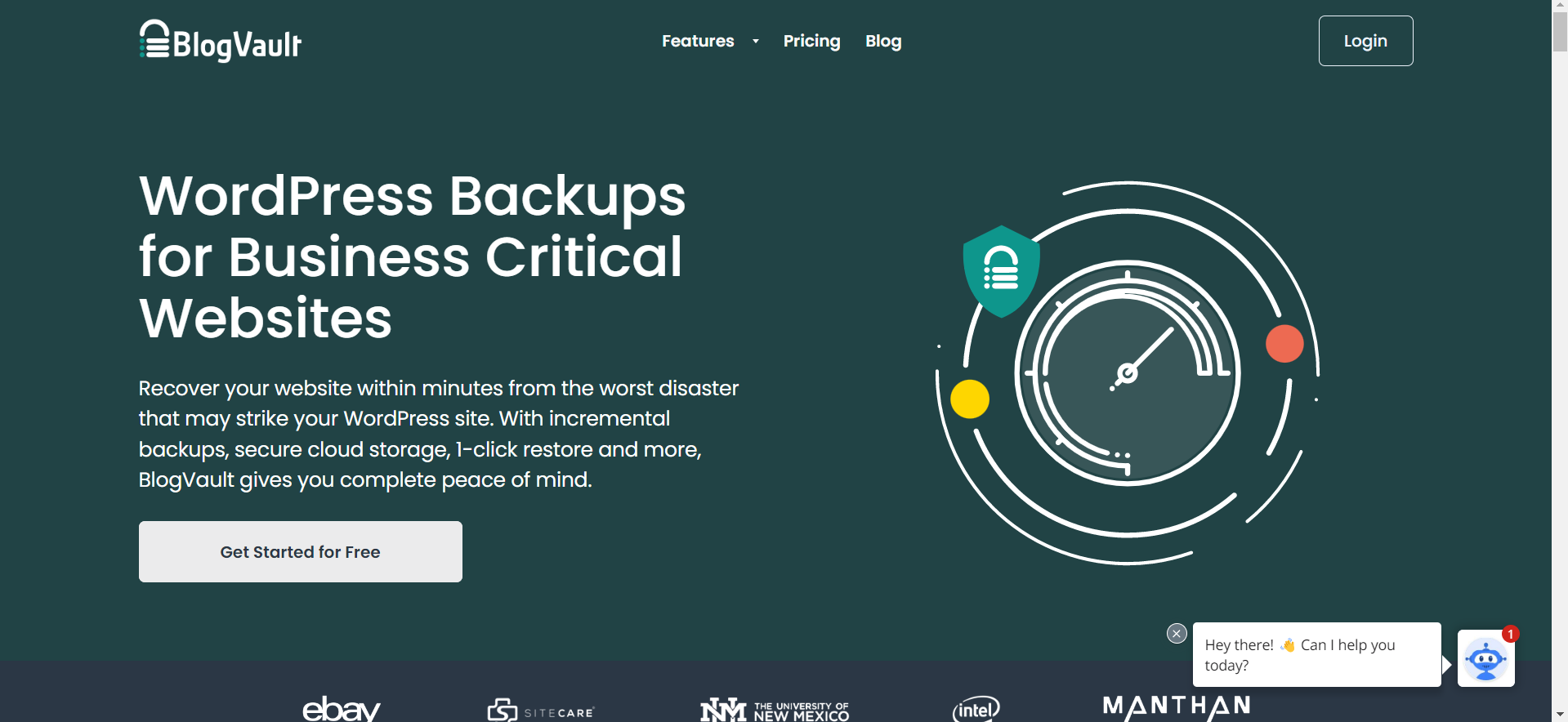 BlogVault is a comprehensive backup and restores solution designed specifically for WordPress websites. It provides users with a reliable and user-friendly platform to safeguard their valuable website data and easily recover from any potential disasters or issues.
In addition to backups, BlogVault offers a range of website management features that enhance its value. These include one-click staging environments for testing site changes, malware scanning and removal, and a site management dashboard to oversee multiple websites from a single location. 
This comprehensive set of features makes BlogVault a versatile tool for managing and protecting your WordPress sites.
Key Features:
Real-Time Backup:

BlogVault offers real-time backups, guaranteeing that every update made to your website is quickly captured and safely preserved.

Incremental Backup:

BlogVault comes with an incremental backup which reduces unnecessary multiple backups thus reducing storage space. 

Restores fully crashed sites:

With

BlogVault's Emergency Connector

, you can completely restore your crashed sites. 
BlogVault servers offer unlimited off-site backup storage.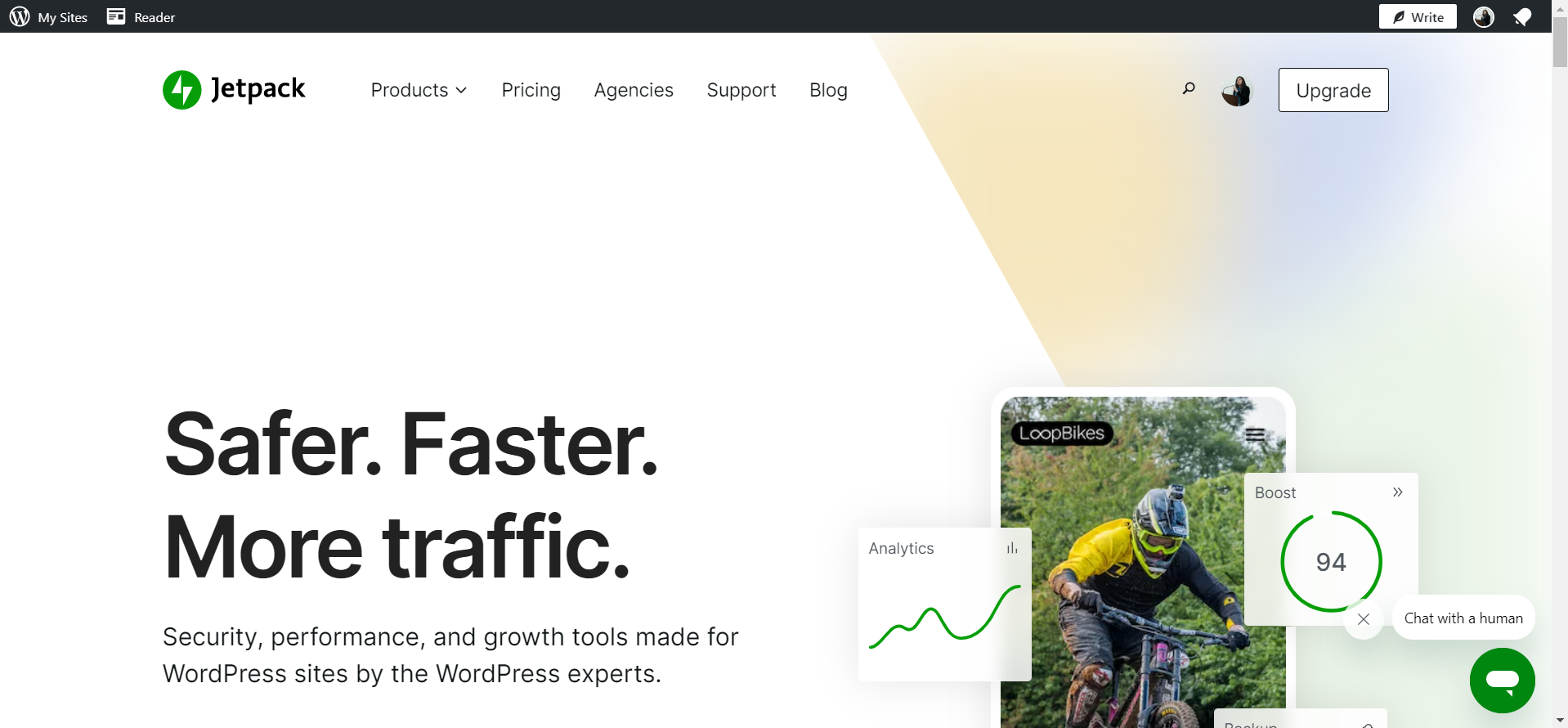 Automattic has released a premium feature for their Jetpack plugin called VaultPress Backups. With this helpful WordPress plugin, restoring to a prior backup of your site is quick and painless.
Jetpack offers a suite of powerful features to enhance the functionality, security, and performance of WordPress websites. The beauty of Jetpack is that it doesn't require you to download and install a bunch of extra plugins. 
Thus, you'll only need to use a single plugin, reducing the overall number of plugins that slow down your website.
While it comes with various tools for website management, we'll focus specifically on its backup-related features.
Key Features:
Automated and Incremental Backups:

Jetpack offers daily automatic scheduling of backups along with incremental backups. Thus there is less human intervention and reduced storage space.

Real-Time Backups:

Backups happen in real-time preventing loss of data when the website crashes.

Protection from

Brute Force Attacks.

Automated security fixes for vulnerabilities. 

Secured off-site backup storage.

 

One-click restoration.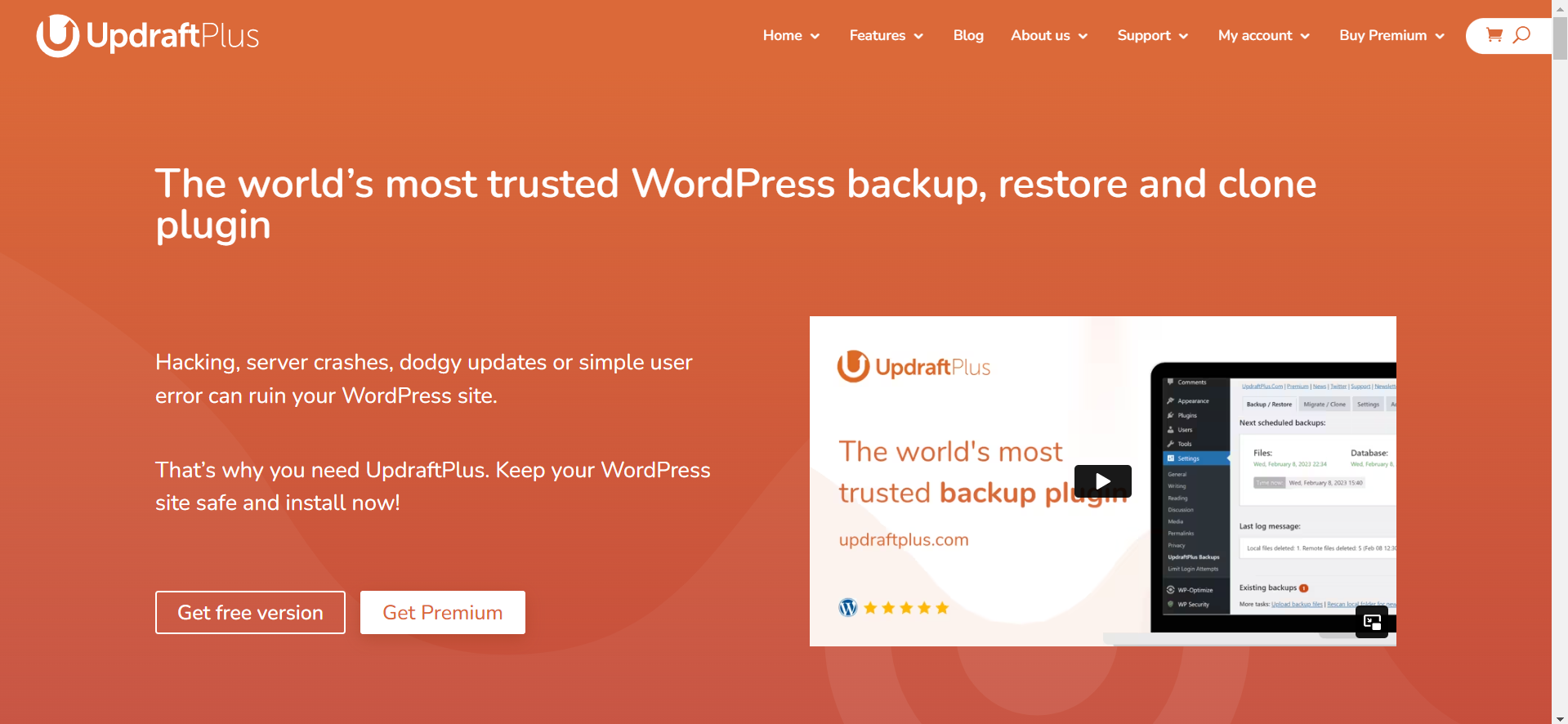 UpdraftPlus will allow you to back up your entire WordPress site to the cloud or download it locally. The plugin supports automated and scheduled backups. You can also choose which parts you want to back up, like themes, plugins, or data.
UpdraftPlus offers more remote storage options than any other WordPress plugin. The free version of the plugin supports cloud backup to Amazon S3, Rackspace Cloud Files, Dropbox, Google Drive, Microsoft OneDrive, Microsoft Azure, FTP/ SFTP servers, and many more.  
The premium edition adds incremental backups, site migration to a new domain, and extensive safety reports.
Key features:
Easy modular backup and restoration of your WordPress website.

Encrypting database backups for security in the pro version. 

Compatible with multisite WordPress installations. 

Off-site backup storage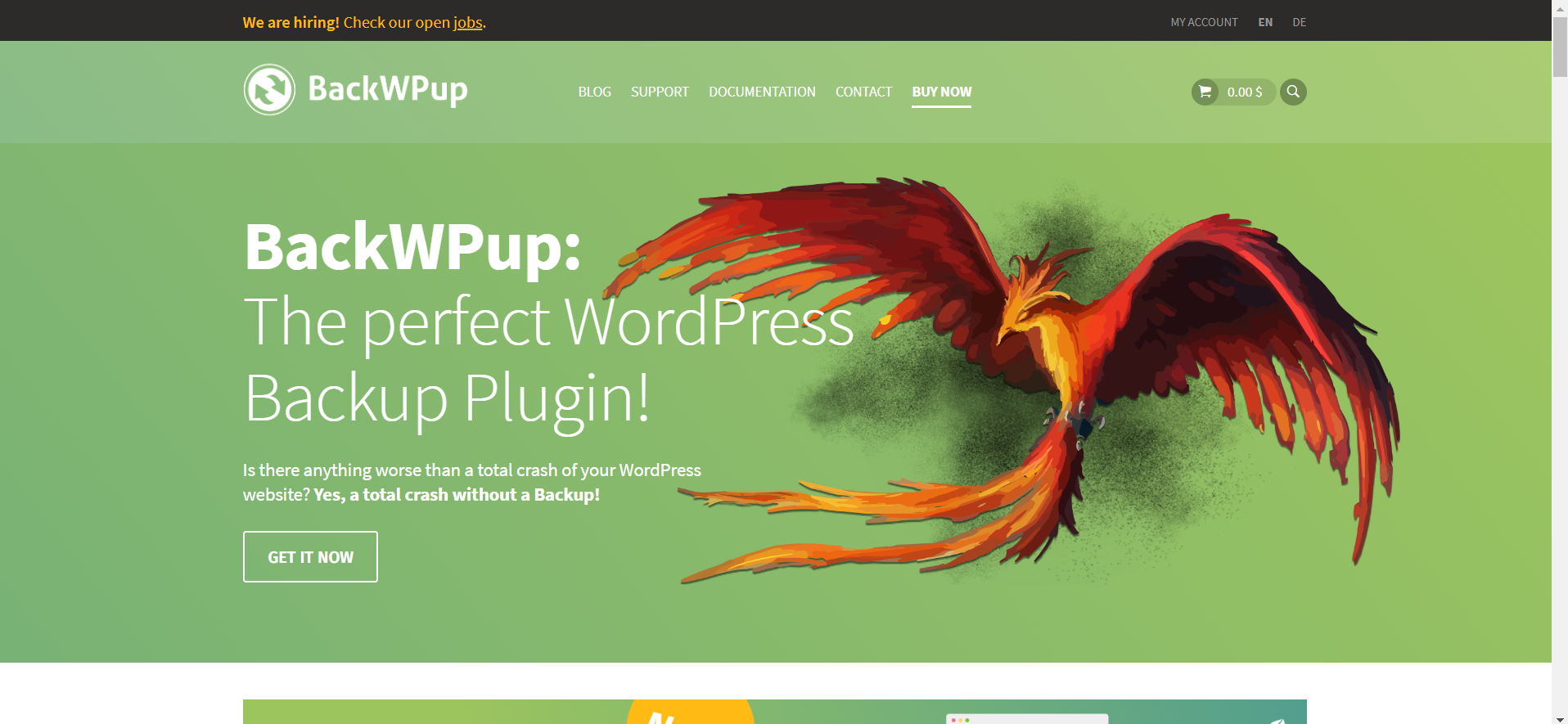 Full backups, database backups, and selective file and directory backups are the backup options that BackWPup provides. This feature lets customers personalize their backup plan to meet their unique requirements. 
Similar to others, scheduled and automated backups are provided in this plugin. 
The plugin supports backup destinations like Google Drive, Dropbox, Microsoft Azure, Amazon S3, and more. Users can store backups offsite to reduce data loss. 
Key Features:
The users are notified about the status and results of backup operations through email. 

The plugin supports database optimization and maintenance tools. This feature reduces database size and fixes bugs to improve website performance.

Automated and scheduled backups.

BackWPup provides restoration and migration capabilities.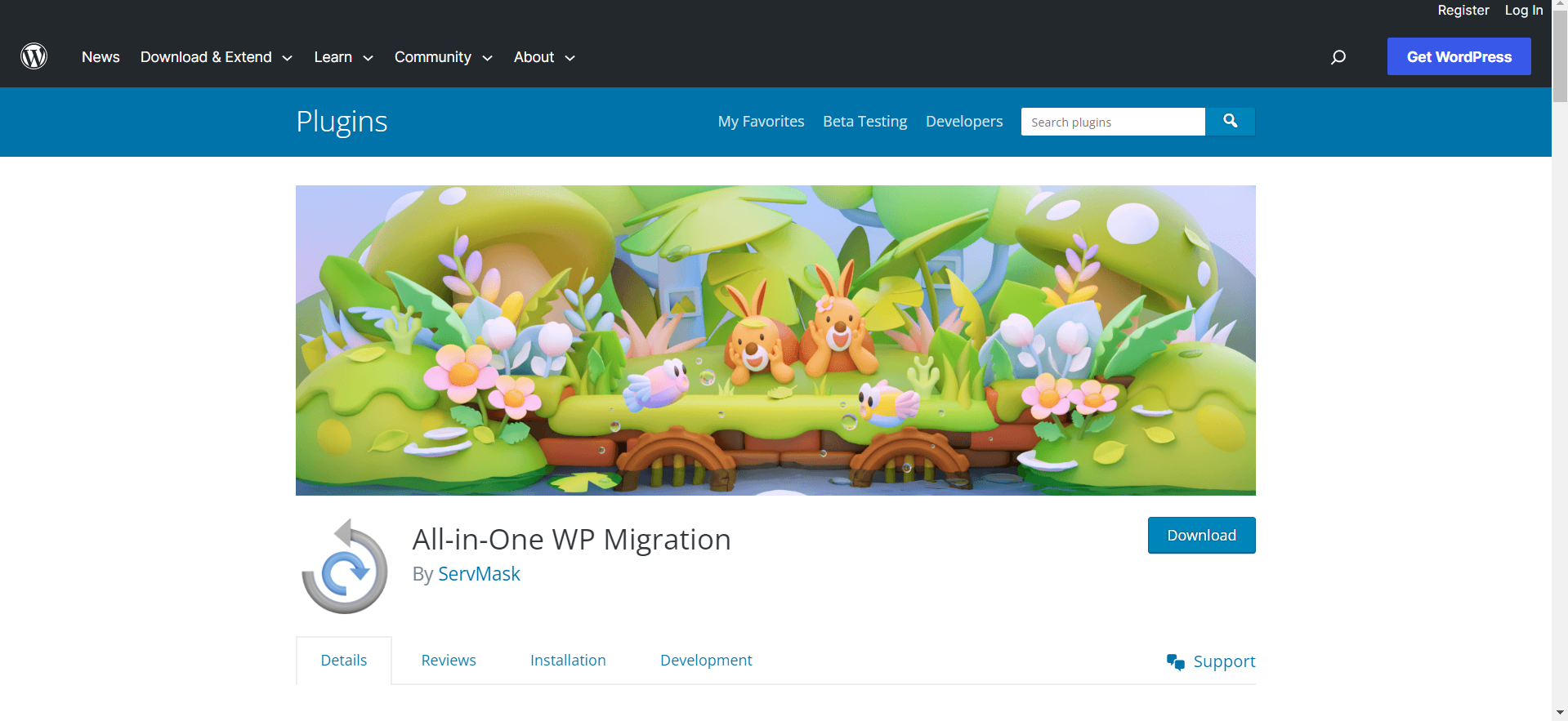 This plugin has been developed for non-technical people to migrate their websites from one server or hosting provider to another. The plugin makes it easy for you to back up your site's data (posts, plugins, media, and themes) and upload it to the cloud or local storage with just one click. 
The plugin also supports incremental and scheduled backups. The backup frequency can be customized in accordance with your needs: daily, weekly, or monthly. 
Key features:
All-in-One WP Migration lets you make several versions of backup copies at different times. This lets you choose from which backup you want to restore. 

All-in-One WP Migration has extensions for Google Drive, Dropbox, Amazon S3, and more, thus helping you with off-site storage.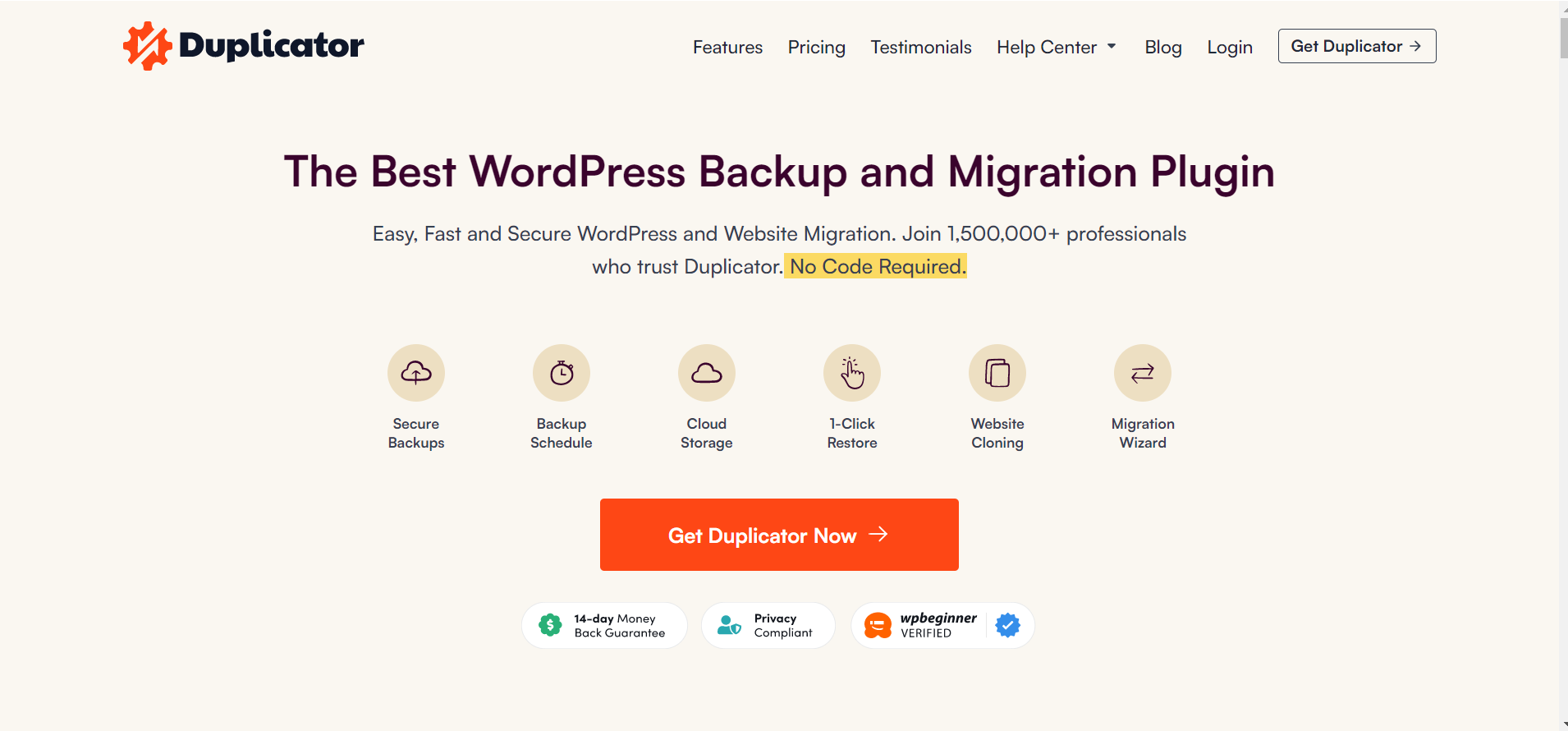 Anyone with minimal experience may quickly and easily create backups, move, and clone their WordPress sites using the Duplicator plugin. 
The duplicator plugin provides automated and scheduled backups, and cloud backup storage (OneDrive, Google Drive, FTP, Dropbox, Amazon S3, or any S3 Compatible service).
The one-click migration feature of Duplicator simplifies the process of transferring your website to a new location. There is no other WordPress backup plugin like Duplicator, that allows you to back up a brand-new site. With Duplicator, setting up WordPress and configuring your site takes a few minutes.
Key Features:
Supports backup of large sizes of sites even in the free version. The plugin also creates a zip file of the backup in storage. 

Get quick notifications through email whenever Duplicator fails to complete a backup, takes too long, or requires manual intervention.

Duplicator may generate new databases and execute search and replace operations during migration, improving its efficiency and versatility. 

Multisite support.
Conclusion
WordPress site owners need reliable backup and recovery solutions. The plugins mentioned in this blog are the ones that can protect your website from calamities and restore it quickly. Consider automatic scheduling, remote storage, migration, and convenience of use when choosing a backup and restoration plugin. 
Choosing the proper plugin and following best practices will protect and restore your WordPress website, letting you focus on content and business goals.