WordPress, the most famous CMS (Content management system) has been widely used across the globe, with more than a quarter of the websites are powered by it.
WordPress has come a long way; it has evolved from a simple blog management tool to an absolute CMS which can be utilized to design and develop affluent websites.
On December 6, 2018, WordPress had made a grandeur announcement with the launch of "WordPress 5.0 – Bebo" with "Gutenberg" as its default editor. This was one of the most significant updates of the year 2018 and even bigger and most significant update of WordPress CMS since its inception.
This face-lift brings a massive change to the present editing experience of the WordPress, reinventing how the developers and users will be using this CMS, making an impressive and bold step further for the WordPress Ecosystem.

What is "Gutenberg WordPress Editor"
The Gutenberg WordPress editor replaces TinyMCE which was traditional and the default content editor (for years) and is its now a part of the WordPress core.
This new WordPress update is named after "Johannes Gutenberg"  the founder of the printing press (invented it probably 500 years ago) which was equipped with the mechanical movable type technology.
The primary aim of this new update is to make the editing experience of WordPress more user-friendly and enjoyable for everyone.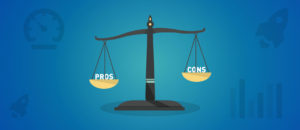 Top Pros of Gutenberg WordPress Editor
If you are familiar and love the "Medium style" editing experience, then you will "feel at home" when using the Gutenberg editor, as it also gives a similar editing experience.

"Blocks" are the building blocks of this editor. This helps a more integrated editing experience and offers a unique way to create pages and posts in case if you are thinking to start a blog.

It's a drag and drop visual editor hopefully eliminating the need of any third-party drag drop page builders.

Gutenberg editor is extremely user-friendly as the web pages you'd be designing are by default mobile friendly furthermore, it lets you do the editing on the go.

The best part of it is, It provides the user with a distraction-free view (thanks to more screen space this editor gives ) so that more focus is on content and the design of the web pages.
Top Cons of Gutenberg WordPress Editor
Gutenberg editor currently has partial support for meta boxes. Meta boxes allowed the addition of extra metadata to pages/posts. Websites built until now relied heavily on Metaboxes (post meta). The

Gutenberg official documentation

recommends porting of PHP meta boxes to blocks.

Even though the Gutenberg editor offers responsive designs, it doesn't support responsive columns yet. This is believed to be a temporary issue and will be fixed soon.

WordPress currently has thousands of plugins and themes, making them work with Gutenberg editor is quite challenging and will take time.

Existing sites which have lots and lots of content may face a challenge to migrate content from classic editor to Gutenberg blocks.

Developers have to keep iterating their plugins and themes alongside the changes in Gutenberg editor which is likely to happen.
Final Thoughts
Since its inception "Gutenberg editor" has stirred some controversies and continuing to do so. Amid these controversies, it saw the light of day for which it was destined.
There are mixed reactions from the WordPress community, some of them are considering is at a bold and thoughtful move for WordPress ecosystem while others describing it is a big disaster.
As of now, the majority of WordPress Plugins and themes do not support Gutenberg editor architecture. All we can do is to wait till these themes and plugins adapt to this new change for good.
There is no doubt that Gutenberg is the next generation editor but still needs a lot of improvements and has a long way to go.
Let's see how Gutenberg editor evolves with time.
Till then, Get in touch with our team for building Enterprise WordPress Websites and Apps.