Digital learning is an inevitability today. E-Classrooms are rapidly replacing traditional chalk-and-board methods. We are experiencing a remarkable integration of multimedia in modules and lessons, with video-lectures and online tests being conducted in many universities as well as schools and this is leading to more and more students becoming comfortable with technology in their early, formative years. While solutions like this may be beneficial for the students, what are the changes that educational Institutions can undertake in order to participate in the swiftly digitizing educational environment?
Start with a Digital Ecosystem for your Educational Website
An Educational Institution carries out innumerable administrative functions like admissions, registrations, examinations, time-tables, events, results, etc. Apart from these, the Institute also has to conduct certain developmental functions for students such as regular assessments, extra-curricular activities as well as additional programs for students as well as parents. Above all, it is imperative for an Institute to have a clear channel of communication with all its stakeholders, right from parents, students and faculty to staff members, trustees, alumni and external professors. A digital ecosystem would create a link between all of these processes.
Digital ecosystems usually enable a certain degree of innovation in an industry because multiple technologies get interlinked and integrated into how that sector functions. For example, the introduction of digital ecosystems in business marketing has led to revolutionary additions to the way brands advertise and socialize with their target audience- all this within the past decade. Similarly, such ecosystems in the Educational sector would truly transform the industry as various features would become available to Institutions. This will help push the envelope of research and analytical studies, connect students with experts in any field and introduce a pattern of accountability as many processes would become digitally monitored, time-stamped and hence, easier to manage.
A Powerful Website
A robust, clean and centralized website would be the first step in creating a successful digital ecosystem. The website is essentially the face of the Educational Institute. It is the window for a student, teacher or parent to interact with the Institute. So, by including essential aspects like displaying important notices, schedules and adding a portal to communicate, the website could take care of much of the communication that the School needs to do with potential students and teachers. Interlinking processes like email notifications, linkages with blogs & social media or displaying online peer-reviewed journals produced by students, faculty or alumni will make the website all the more impressive.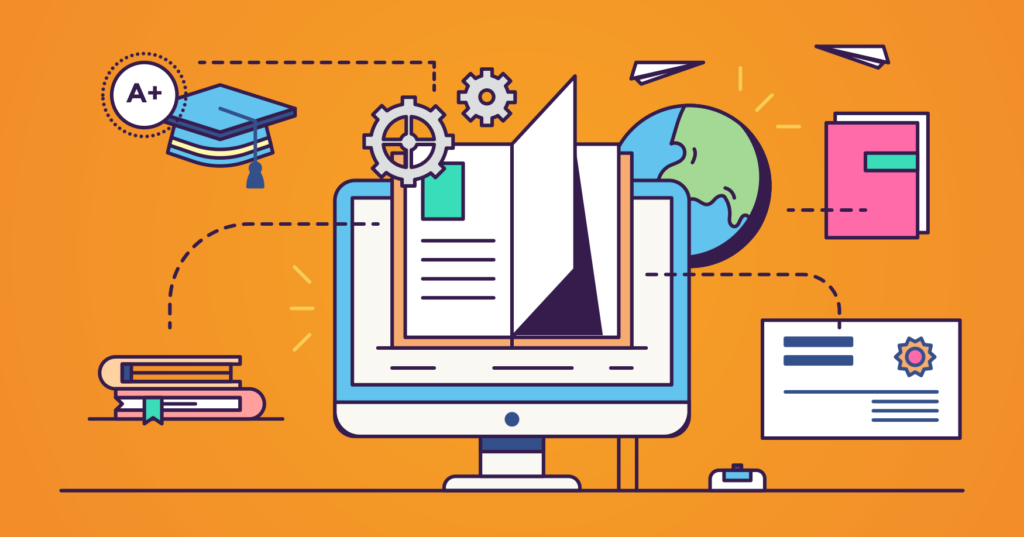 A Series of Apps
Often, there are a number of different courses of contrasting disciplines that a single University undertakes. For circumstances like this, the digital ecosystem of that Institute could have an inclusion of a series of apps- one for each course! Application based learning is quickly catching on and it is very much possible to tweak the features of an app on the basis of the purpose it aims to serve. Assignments can be submitted digitally, queries can be answered without the student and teacher being in the classroom and evaluations and test scores can also be communicated online! A series of applications like these centrally linked to a portal will help students evaluate their progress, keep track of submissions and be alert about time-tables and schedules.
Processes Simplified
Schools or Universities undergo various processes that require support from a large database like admissions, attendance, assessments, results, placements, distribution of scholarships, collection of fees, conducting events, etc. These processes can be smooth and seamless if they are automated. Having a dedicated digital system to carry out such activities and maintain an eclectic database would prove to be highly beneficial for the administrative departments of the Institute. It would also save a lot of time, money and manpower.
Inculcating Digital Habits


Even though many commentators are discouraging the influence of computers in the lives of younger children, it is a fact that they cannot escape digitization in their future lives and careers. Schools are crucial institutions that can inculcate appropriate digital habits among students and familiarize them with the basic knowledge that will be very important for their employability. Children of this generation cannot afford to bring e technologically challenged because of the vast amounts of business that is carried out digitally today. Hence, introducing digitization to students at a young age would be highly necessary.
Socializing with the Community
One of the many aims of the digital ecosystem for an Educational website would be its marketing. Millions of students around the world seek schools that would contribute to their overall development and success. The digital ecosystem can constitute many socializing elements like blogs, alumni testimonies, multimedia displays of achievements, events and awards as well as a vicarious view into the school or university itself. By socializing with the community in such a way, the Institute can build a network of trust, harmony and goodwill with potential students, faculty or donors. Above all, it could make the Educational sector more open, with industry stalwarts, experts and academics being able to interact and impart knowledge on an open platform.
Conclusion
In a country like India, technology is looked at with a certain amount of suspicion. With more and more data security concerns, we have a long way to go with embracing technology completely. Furthermore, many places lack the basic infrastructure to build ecosystems like these. But with the right mindset, Educational Institutions can be the most appropriate field to imbibe a digital-friendly attitude among students as well as parents. Creating a digital ecosystem will simplify many processes that Institutions have to deal with. Above all, it will generate transparency in the educational process.